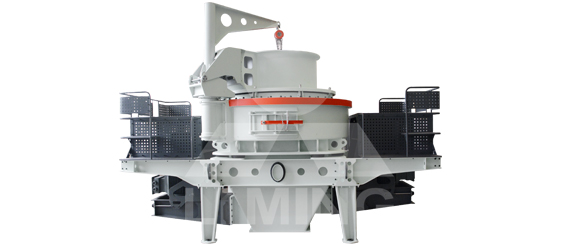 Output size : Various size
Production capacity : Up to 800TPH
Four openings impeller, Sealing structure
Based on more than 30 years of experiences, VSI6X Series Vertical Shaft Impact Crusher carrying many patents amazes the market greatly. This machine is possess of four openings impeller, special sealing structure and sealed cartridge bearing structure, which makes production convenient and efficient.
Applications: metallic and non-metallic ore, building material, artificial sand making and every kind of metallurgical slag
Learn More About Liming® VSI6X Series Vertical Shaft Impact Crusher
1.New design, efficient crushing
Impeller structure adopts the design of four openings to improve the material throughput. Compared to the three opening impeller, the crushing efficiency is improved by 20%.
2.Technology upgrade, cost decreasing and benefit increasing
"Crushing between material" work pattern is adopted to reduce wear-resisting type and cost; adjust some impeller structure and craft. Comparing with the earlier equipment, the impeller lifespan is raise up by 30-200% on the situation of same material.
3. Unique design, quality assurance
Equipment transmission parts special sealed cartridge bearing structure prevents leakage, won three national patents; good bearings, reduce transmission failure.
4. Efficient working, easy maintenance
New lifting device to facilitate customer maintenance of the equipment, saving labor; minimalist design effectively prevent blocking when the moisture content of the raw material is high, reduce downtime, and efficient operation.
Working Principle
The motor drives the main shaft to make the impeller to rotate at a high speed. The material which entered impeller will speed up and ejected to crushing chamber, and then impact with the material liner that shaped in crushing chamber. In this process, to make the kinetic energy got from speeding up transform to energy need for crushing and shaping. The material will recycle for many times in the crushing chamber. After many times crushing and shaping, by the function of around gas eddy, to achieve constantly crushing and shaping. The final products are discharged from bottom outlet of machine body. This crushing method is 'crushing between materials', and it is used for material shaping. Besides, this machine also has another crushing method 'crushing between material and liner'. To compare with 'crushing between materials', the difference is: After material ejected from impeller, the material will impact with liner installed in crushing chamber. After impacting, the material will discharge from bottom outlet of machine body directly, and it does not recycle many times in crushing chamber. This crushing method is mainly used for crushing (target for large crushing ratio).
Specifications – Technical Data
Model
VSI6X1263
VSI6X1150
VSI6X1040
VSI6X9026
VSI6X8018
Central feeding(t/h)
Crushing
454-486
344-368
264-283
109-117
109-117
Re-Shaping
545-583
413-442
317-342
131-140
131-140
Maximum(mm)
Crushing
≤50
≤45
≤40
≤35
≤30
Re-Shaping
≤60
≤55
≤50
≤45
≤40
Main shaft speed(r/min)
900-1200
1000-1300
1100-1400
1200-1500
1300-1700
Power(kW)
315×2
250×2
200×2
132×2
90×2
Any change of technical data shall not be advised additionally.